Web Business Valuation Request
Watch Our Video:Valuation Request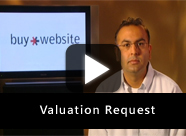 You worked hard to build value in your web business. You put in long days and probably had sleepless nights. Has the effort paid off? Ever wonder how the market might value your business? You can find out. Provide us with a few basic facts about your web business, and we will send you a Express Valuation Report. Free!
We provide this service in strict confidence. The privacy of your information will not be compromised. We use the information you provide only to develop your valuation report. We do not share this information with anyone.
One of our expert business appraisers will review your file and estimate your business's market value. For a more thorough and detailed appraisal, contact us or click the "Full Valuation Report" box in the request form.
Request a Free Valuation of Your Web Business