Sell Your Web Business
Watch Our Video:Selling Your Web Business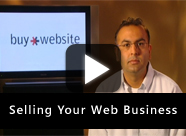 Are you thinking about selling your online business? You are in the right place. We are web business specialists. Our sole focus is helping web business owners get full value for their web business. Here is our promise to you:
You'll get personalized service from experienced industry experts
You'll get help packaging your business to maximize the selling price
You'll get access to a wide network of active buyers
You'll pay nothing up front - you pay a success fee only when your business is sold
You'll get full screening and pre-approval before potential buyers receive your info package
You'll get full confidentiality - guaranteed
You'll get the best price for your business on the best terms in the quickest time
Our goal is simple. We want to create happy and satisfied customers. It can be stressful selling a business you spent years developing. You need an expert you can trust. That's us. We'll ask you for an exclusive listing. That allows us to throw all our resources into selling your business. Let's work together and get your business sold.
List your web business for sale with us.
Gain access to our network of high net worth buyers.
Step 1Website Business Profile
Step 2Technical Data
Step 3Statistical Data
Submit
Contact Info