Merger & Acquisition Services
Watch Our Video:Mergers And Acquisitions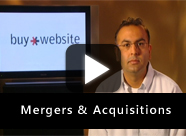 We do M&A consulting for our clients. We can help with almost any M&A issue. You name it.
Finding strategic buyers
Approaching competitors to consider a merger
Appraising business value
Negotiating buying/selling price
Summarizing terms in a letter of intent
Drafting the purchasing agreement
Arranging financing for purchasers
Completing due diligence investigations
Selling off non-core asset
We want to be your business development partner. If you want help growing your business, give us a call.
Provide us your information